Business
How will Paytm Payments Bank affect you? 11 points explaining everything you need to know
Paytm Payments Bank (PPB) will go live on Tuesday on an invite-only basis, mostly to users in north India. While the select first-phase rollout is underway, the company has said it would invest about Rs 400 crore to build its banking network across the country over the next two years and its first physical branch of Paytm Payments Bank will be in Noida.
While the company is looking to acquire 500 million customers by 2020, they aim to have a physical presence of 31 branches and 3,000 customer service points within the first year.
If you are a wallet user and wondering what impact the new announcements will have on you, here is everything you need to know about it:




1. The Paytm Payments Bank accounts are being rolled out for employees and associates as a beta. Other people would need to request an invite to hold accounts in the bank.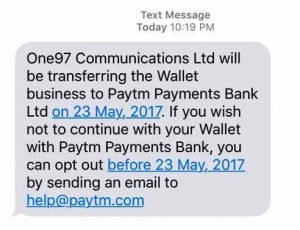 2. Paytm wallet accounts will be automatically migrated to the new payments bank. If you do not wish to continue, you could opt out by emailing help@paytm.com or by visiting paytm.com/care. Your balance will be redeemed by transferring it your bank account.
3. To open a PPB account, users have to visit the Bank page and click Request an Invite. You will then be asked to sign in to your Paytm account which will then automatically register your interest in holding an account.
4. The accounts have a Rs. 1 lakh limit and differ from wallets because they offer interest and debit cards.
5. Accounts that are dormant or inactive for 6 months and have zero balance will only be transferred by opting-in. You will also be able to open a PPB savings or current account with the same login, however, you would need to open a separate bank account.
6. Along with free online transactions, (like IMPS, NEFT, RTGS), the bank account does not have any requirements for maintaining a minimum balance.
7. While Airtel Payments Bank offers 7.5 percent interest per annum, PPB is paying a 4 percent per annum interest which is similar to banks like Axis, ICICI and HDFC.
8. Also, unlike Airtel Payments Bank, Paytm Payments Bank is offering a physical debit card (not credit card). While Airtel's is a virtual one, Paytm's physical services like debit cards, chequebooks and demand drafts will be available at a nominal fee.
9. The debit card, which is in partnership with Rupay, will be charged at Rs. 100+ delivery and replacing a lost card will also cost the same as an annual fee. The same amount, Rs. 100+ delivery, is also chargeable for a 10-leave chequebook.
10. While the company is not launching its own ATMs, their debit cards can be used to withdraw upto 5 times at non-metro ATMs or 3 times at metro ATMs without charges. Post that, a Rs. 20 withdrawal charge will be taken and other transactions like checking balance will cost Rs. 5.
11. PPB will offer current accounts to its merchants and users will get a 1 percent cashback for transferring Rs. 25,000 or more into their PPB account (i.e Rs. 250), up to four times.
One97 Communications Ltd, the owner of Paytm is looking to roll out the second phase after three months and are expecting a customer acquisition cost of Rs 125-150 crore over the next 12 months.