In Conversation
We have more than 2 crore PNRs in our system and 90% of the predictions are correct: Vineet Chirania – Director & CEO, Trainman
Trainman was born out of the idea to simplify and remove the confusion over ticket confirmations for travelers. In a complex transportation system that carries more than 23 million passengers daily, Trainman claims to have a very high rate of accuracy in predicting the chances of one's tickets getting confirmation. My Big Plunge spoke with with Vineet Chirania – Director & CEO, Trainman – the platform that helps you 'find trains and predict availability OR know confirmation chances of your PNR'.
What is the idea of Trainman?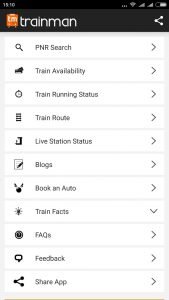 Trainman is an online platform which gives information and intelligence pertaining to Indian Railways. Our product can be accessed via the site (www.trainman.in) and mobile apps for Android, iPhone and Windows platforms. It is a one-stop shop for all information regarding Indian Railways. A user can check PNR status, seat availability, train schedule, etc. The USP of our product is confirmation chances of waiting list tickets. Trainman is the pioneer app in this segment, and more than 90% of the predictions are correct.
How did you come up with Trainman?
The train is the lifeline of travel in India. But railways system is quite difficult to understand for a normal user. Also, getting a waitlisted ticket is quite common especially during summers vacations and festivals. This leads to confusion – will it get confirmed or not? People needed a smart system that can not only predict the confirmation of waitlisted tickets but also give all other information in a very simple and user-friendly way. Thus, Trainman was born.
Trainman has recently forayed into 7 new regional languages. How much does this expand your reach?
We launched our app in 7 Languages that covers almost 70-75% of the regions of India. Nearly 41% of Indians speak Hindi. If we combine the speakers of all 7 languages, our app can be used by 76% of Indian population. Nowadays, with more and more people opting for a smartphone, it becomes necessary for them to provide accessibility in their native language. With this launch, we have tried expanding our user base, not just in metros but tier II and tier III cities.
How many people use the train as a preferred transportation in India? How difficult was it to collect the huge public data?
Indian Railways carries 23 million people (which is more than the population of Australia) on trains everyday. This means that nearly 2% of Indian Population is on the train on any given day. From Google Trends
we can see that searches for trains are more than double of the combined searches for all other modes of transport. Clearly, a large chunk of people prefer the train over flights and buses.
Data collection was a huge challenge for us as railways do not provide any system from which we can access past railways data. Therefore, we built our framework for data collection which took us 6-7 months. As of now, we have more than 2 crore PNRs in our system. This huge dataset enables us to do waitlist ticket prediction very accurately.
What is the technology that you use?
We use a technology called machine learning which is a subset of Artificial Intelligence. Machine learning explores the study and construction of algorithms that can learn from and make predictions on data. We build models from seen data which then can be used for final status prediction for unseen data with high accuracy.
What were the challenges that you faced while building the platform?
For building a prediction engine we need lots and lots of data. Data collection is a huge challenge. Building a sustainable business model is another challenge as we do not charge a penny from the user.
How many app downloads have you seen? What's your current user base?
We receive 2 lakh visits on a daily basis. Total app downloads are close to 5 lakhs across all platforms – Android, iPhone and Windows. We witnessed 10 fold growth on apps compared to last year. Our Android app has a rating of 4.5/5 on playstore.
How do you plan to scale up from here?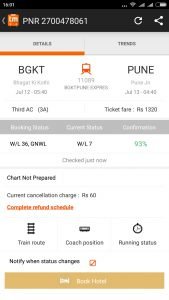 The journey so far has been encouraging and a learning process. The growth on the android app has been phenomenal. In next six months we will be expanding our reach in tier II and tier III cities, and for that, we will be adding some smart features on the app to make it a one-tap solution for users. Our mid-term target is to triple our active user base by year end.
Anyone who travels by Indian railways and owns a smart-phone is our potential customer. We have recently launched our app in major Indian languages for our users who have trouble reading and understanding English. We are also working on a lot of other interesting features which will attract more users.
"Think Train, Think Trainman" – This is where we want to be. If anyone thinks about trains, Trainman is the first app that should come to his/her mind.
How does your tie-up with Jugoo help in the long run? What is the vision?
We not only want to provide train information but other ancillary facilities also from our app. One of the most common problems which a train traveller faces is the commute to and from railway stations. To facilitate the booking of autos without hassle, we have integrated with Jugnoo which is India's leading on-demand auto-rickshaw aggregator.
The tie-up will enable passengers to book auto-rickshaws while travelling to and from their respective railway stations, using the Trainman mobile app. The service will be made to users of Trainman mobile app in 35 cities where Jugnoo is currently operational.
What is your business and monetization model?
Our major chunk of revenue comes from advertisements. We have also tied up with relevant businesses like Cleartrip (for flight/hotel booking) and Jugnoo (for auto booking) to generate and share revenues.
There are many other players in the space like ConfirmTKT, Khanagadi, Travelkhana that provides similar services. What makes you different?
Trainman always brings some unique features to the user which addresses one or more of their pain points.
● Trainman was the first to start with ticket prediction (But now some other players have also followed suit). We follow a color-coding scheme for the same. For 65% and above we show confirmation chances in green colour which mean that ticket has high chances of confirmation. For 50% and below one can see it in red colour which means that it has very fewer chances of confirmation. The yellow colour is shown for borderline cases.
● Our user interface is unique in such a way that most of the information can be seen in one view with minimal clicks.
● We show historical trends to user which backs our prediction percentage. User can see some actual past trips of same train, origin, destination and class.
● Refund calculator is a very unique feature. The amount refunded on ticket cancellation depends on a variety of factors – time remaining in train departure, travel class, quota (whether general or tatkal), whether ticket is waiting-list, RAC or confirmed etc. To calculate refund based on all these factors is time taking and cumbersome for users. Plus user needs to memorize the complicated refund rules. This is where Personalized Refund Calculator comes in handy. User just need to open trainman app and check the status of tickets booked. They can see a personalized refund chart generated on the basis of their ticket. It is dynamic and updates itself as time passes and as the status of the ticket changes.
Are you looking for funding in the near future?
We are currently bootstrapped and running profitable. We might raise money in future if we find an investor who likes and understands our product on a whole and not just from financial angle.
Key features and highlights of Trainman
● Core features
o PNR status with confirmation chances for wait-listed tickets
o Seat Availability with prediction for waitlisted tickets
o Train Schedule & Live running status
o Ticket fare for both general and tatkal quota
o Automatic trip detection from sms and notifications on change in PNR status
o Live station status
o Refund Calculator
o Platform number and coach position
o Tips to book tatkal ticket
● Other unique features
o Trainman is a true Indian app available in 7 Indian languages – Hindi, Telugu, Tamil, Kannada, Marathi, Bengali and Gujarati.
o We follow a color-coding scheme for wait-listed ticket prediction. For 65% and above we show confirmation chances in green color which means that ticket has high chances of confirmation. For 50% and below one can see it in red color which means that it has very less chances of confirmation. Yellow color is shown for borderline cases.
o We show historical trends to user which backs our prediction percentage. User can see some actual past trips of same train, origin, destination and class.
o Refund calculator is a other unique feature. The amount refunded on ticket cancellation depends on a variety of factors – time remaining in train departure, travel class, quota (whether general or tatkal), whether ticket is waiting-list, RAC or confirmed etc. To calculate refund based on all these factors is time taking and cumbersome for users. Plus user needs to memorize the complicated refund rules. This is where Personalized Refund Calculator comes in handy. User just need to open trainman app and check the status of tickets booked. They can see a personalized refund chart generated on the basis of their ticket. It is dynamic and updates itself as time passes and as the status of the ticket changes