Education
CAJobPortal is bridging the gap between qualifying as a chartered accountant and getting employed as one
In India, many children are brought up with traditional aspirations of becoming a doctor, engineer, chartered accountants and so on. For many, these do seem like careers that would bring them stability, security and mostly respect. However, studying and qualifying as a chartered accountant vis-avis actually starting and building a career as one are two very different things. It takes much more than just a degree or certificate to make a good start – or a start at all.
There is a gap between candidates and finance job vacancies, on an average, 6000 candidates have registered in each of the last 15 terms; and 1130 jobs have been offered each term. Thus, around 18.64% have secured jobs through the ICAI Campus Placement. Some lacked communication skills, the others took multiple attempts to crack the ICAI's placement test, while others resorted to the age-old method of relying on friends and relatives to channelise resumes.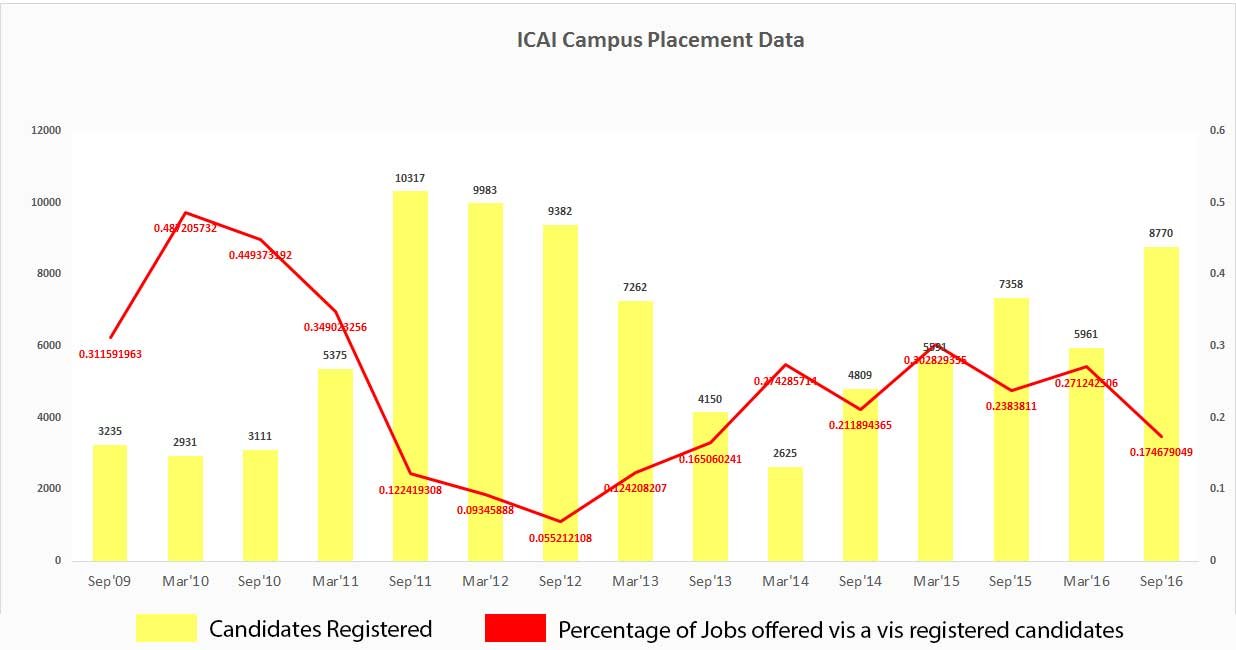 To bridge this gap, in August 2013, C.A Sonia Singhal and her husband Anurag, started cajobportal.com – as India's first jobsite exclusively for Chartered Accountants, Cost Accountants, Company Secretary and MBA (Finance).
Initially, they started with a CSR model but realized it was replicable and could get lost in the overcrowded recruitment space. There were no entry barriers and users perceived little differentiation amongst the various portals.
"We were encouraged by the IIM faculty and senior CA professionals to convert our blog into a full- fledged recruitment portal. Hence, we decided to go commercial. Senior Chartered Accountants and IIMA alums including the co-founder and former COO of naukri.com, agreed to join our Advisory Board," Sonia says. With this they approached corporates for B2B tie-ups, bundling the value proposition of an online platform and offline search consultant, as opposed to being regarded as just a postman of CVs.
Cajobportal.com's verticals range from CA Industrial Trainee to CA CFO, thus capturing the entire life cycle of a finance professional. How does the company work? "We take a % of CTC for each 'successful on boarding'. Support client across all stages of the hiring process from managing applications to conducting written tests/preliminary screening to arranging interviews," Sonia explains.
A major gap exists between what employers seek and what candidates think will suffice. According to cajobportal, communication skills and the ability to 'think on the feet' are core requirements and these are skills that the 'rote based' examination system is unable to develop.
Cajobportal founder, Sonia adds, "Many employers like Investment Banks and Strategic Consulting firms prefer to hire MBAs from premier institutes for these roles, as it is felt they are more equipped to provide insight and analysis."
Being that communication plays a major role in the issue of getting employed, Cajobportal.com straddles the entire pyramid; with candidate profiles varying with regards to communication skills, internship and professional experience and intellectual prowess. They also groom the candidate before he/she appears for an interview, from matters ranging from refurbishment of the resume so as to make it more professional to appraising him/her about macro-economic trends and company specific details as well.




Sonia explains, "We also make a case to employers that they need to look at candidates across the Bell Curve, depending on their CTC budget, Job Location (Manufacturing Plant in Remote Location Vs Corporate Headquarters) and need of the hour (Stability Vs High-Flier, prone to attrition)."
She further says that there would, currently, be a huge gap between a CA fresher who has interned from a Big 4 audit firm like PwC, Ernst & Young, KPMG or Deloitte vis-à-vis someone who would do it from a mid-sized firm, adding, "Improving the quality of this experience so as to give a homogenous experience is what is required."
What cajobportal offers is a differentiation strategy that centers around three things: a specialists handling recruitment style, quick turn-arounds by leveraging their internal database and traffic on their website to target job seekers for appropriate open positions and all this at a cost that they claim is lower than the industry benchmark.
Cajobportal claims they are trusted by over 100 marquee brands spanning India, Singapore, Middle East and Africa. These include the top 50% of BSE-30 companies. E.g. HUL, P&G, Asian Paints, Pepsi, Cipla, Roche, Wipro, HDFC, GS, Suhain Bhawan and Indorama.
Sonia says that in the last 18 months, they have clocked an aggregate billable CTC of INR 10 crores+ across clients (average CTC ranging from Rs 5 lakh p.a. to Rs 40 lakh p.a.). They are now looking to secure 5X growth in size of database through advertisement and 'word of mouth' – uniqueness of profiles is a key source of competitive advantage for them. Cajobportal is also looking to double their domestic client base.