Trending
Pahadi Beach Goa: Where Every Meal Feels Like a Homely Affair
Pahadi Beach Goa: Where Every Meal Feels Like a Homely Affair
Rating: 4 out of 5
Pahadi Beach, nestled in the serene neighbourhood of Anjuna, Goa, is a delightful gem that beckons travellers seeking solace from the bustling tourist hubs. Operated by the hospitable couple Sonali Ghosh and Saurish Bhardwaj, this cosy restaurant promises an authentic Indian dining experience reminiscent of a homemade feast. In a place where tourists hop from one crowded destination to another, Pahadi Beach offers a much-needed oasis of calm, serving fresh, home-style Indian cuisine that tantalizes the senses.
Ambience: A Tranquil Escape in Anjuna, Goa
Pahadi Beach's location, right across from Artjuna in Anjuna, Goa, sets the stage for a tranquil dining experience. Surrounded by a peaceful neighbourhood, the restaurant's ambience exudes peace and tranquillity. Guests can easily lose themselves in the enchanting aromas of freshly prepared Indian dishes. Pahadi Beach successfully captures the essence of a home away from home, making it a haven for those seeking respite from the tourist hustle.
Service: A Warm Embrace and Personalized Touch
The warm and welcoming service at Pahadi Beach mirrors the comfort and affection one receives at home. Sonali handles the kitchen with finesse, while Saurish takes charge of service, ensuring that every guest feels like a cherished member of the family. They go above and beyond to greet patrons personally, make them feel at home, and offer recommendations tailored to individual preferences. Although the service may be a tad slow at times, it's understandable given that every dish is freshly prepared to order. This minor drawback is overshadowed by the restaurant's genuine commitment to creating a homely atmosphere.
Food: Authentic Home-Style Indian Cuisine
Pahadi Beach stands out by serving dishes that are reminiscent of home-cooked meals. For travellers seeking authentic Indian flavours without the heaviness of excessive oil and spices, this restaurant offers an ideal solution. Guests have the liberty to customize the level of spiciness in their dishes to suit their palate.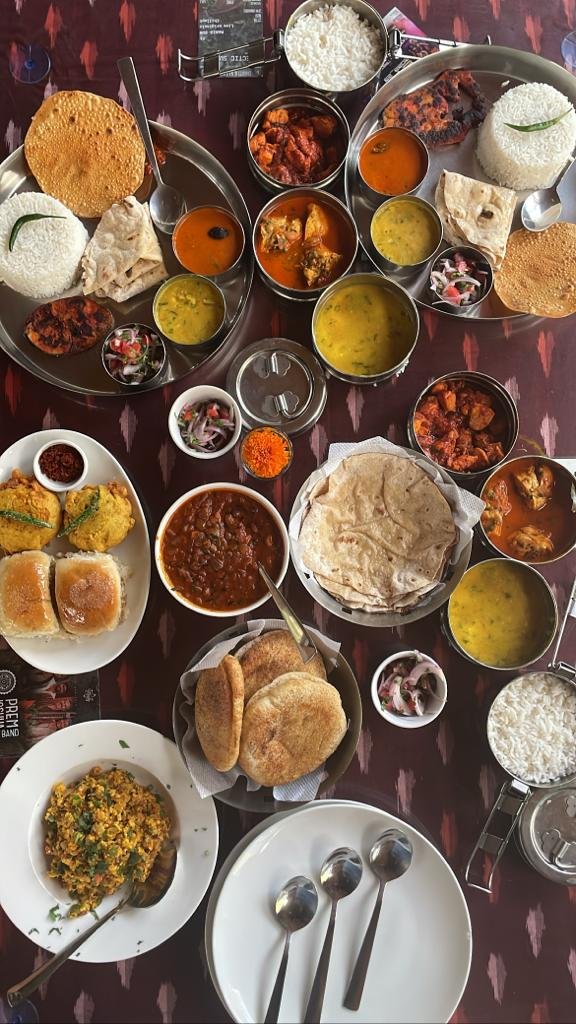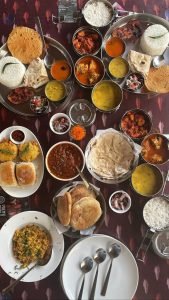 Appetizers: Delightful Starters to Whet Your Appetite:
The restaurant boasts a straightforward yet enticing appetizer menu that includes options for both vegetarians and non-vegetarians, including seafood lovers. Notable favourites include the iconic vada pav, beer-battered onion rings, and poi pockets.
Main Course: Thalis and Signature Dishes Worth Savoring:
Pahadi Beach offers a comprehensive à la carte menu comprising both vegetarian and non-vegetarian options. However, the true highlights are their thali platters, available in both vegetarian and non-vegetarian variants. These thalis allow diners to savor an array of flavors in a single, generously portioned meal. Outside of the thalis, must-try dishes include the pahadi chicken and dida's chicken curry. For those who crave mutton curry, it's advisable to request it a day in advance. Vegetarians will delight in dishes like Rajma, Paneer Bhurji, and Dal, which pair wonderfully with butter-toasted pois.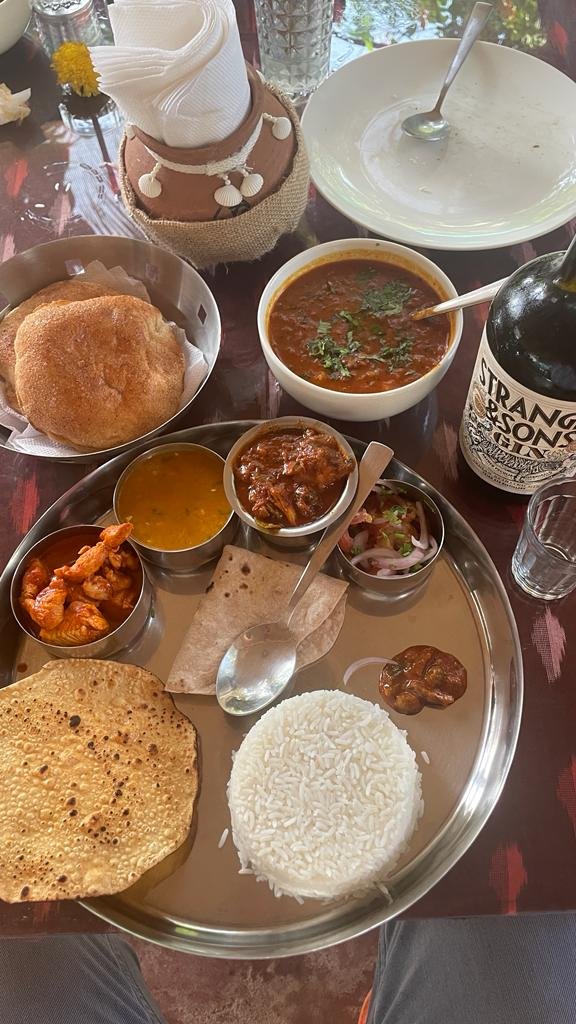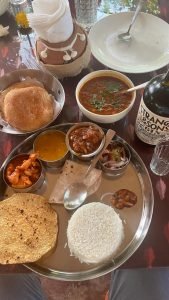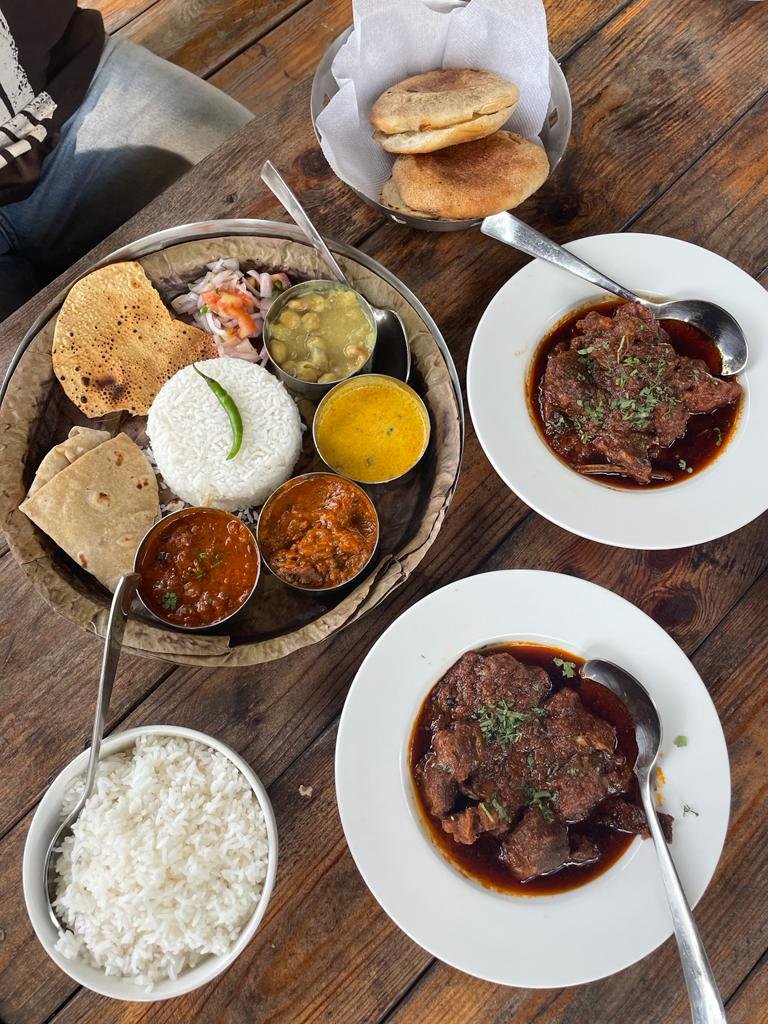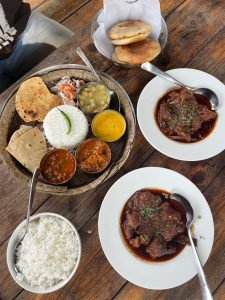 Desserts: Occasional Sweet Treats
While Pahadi Beach occasionally features desserts on special occasions, they are noticeably absent from the regular menu. This is a minor drawback for those with a sweet tooth, but the overall dining experience compensates for this omission.
All-Day Breakfast:
The restaurant also caters to early risers and breakfast aficionados with an all-day breakfast menu, offering a variety of options.
Beverages: Quenching Your Thirst with Authentic Flavors
To complement your meal, don't miss the chance to savour Pahadi Beach's iced coffee (different from the typical cold coffee) or indulge in the refreshing Kokum drink, adding another layer of authenticity to your dining experience.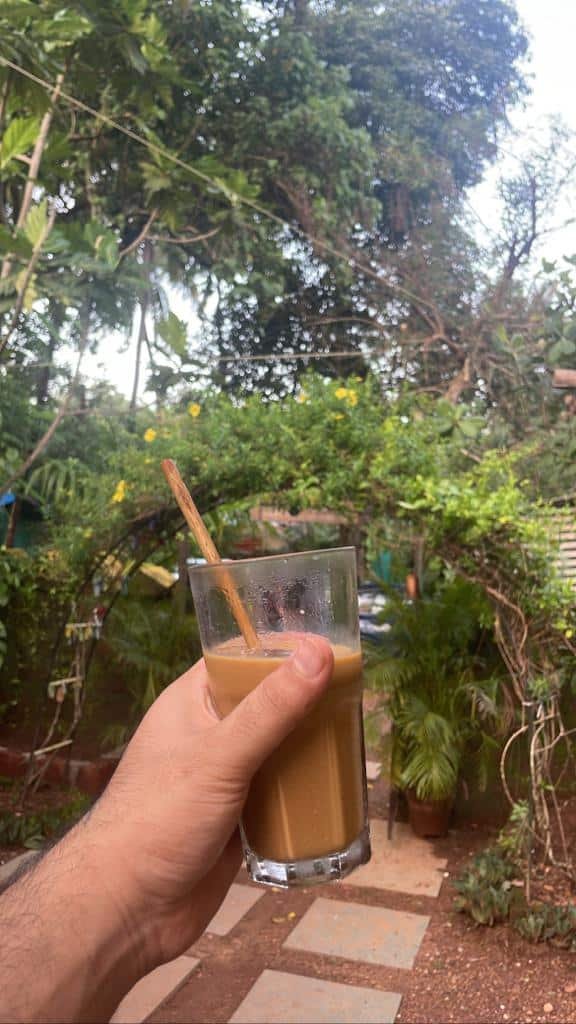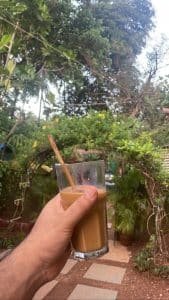 Pahadi Beach – Where Goa Meets Home:
Pahadi Beach in Anjuna, Goa, provides a heartwarming escape from the tourist traps, offering a taste of India that's akin to a home-cooked meal. While service speed may require some improvement, the restaurant's commitment to delivering authentic, fresh, and customizable Indian cuisine is undeniable. From flavorful appetizers to satisfying thalis and a delightful range of beverages, Pahadi Beach is where you can find the comfort and flavors of home away from home. For an intimate, homey dining experience in Goa, Pahadi Beach is a must-visit destination. With a few minor refinements, it could easily earn a perfect 5-star rating in our Worth The Hype series.