Business
Share of E-tail in Indian retail: Infographic
E-commerce has been doing the rounds around India for over 15 years, but it is only in the last 5 years that the obscure idea has got any structure incorporating an appropriate ecosystem. The most interesting thing is, once the sniff was caught it took only a few years to expand itself and capturing the market rapidly.
The e-commerce market in India has enjoyed the phenomenal growth of almost 50% in the last five years. India based online retailers, Flipkart and Snapdeal, have grown significantly in the last few years. With the entry of e-commerce behemoths such as Amazon and Alibaba, the competition is expected to further intensify.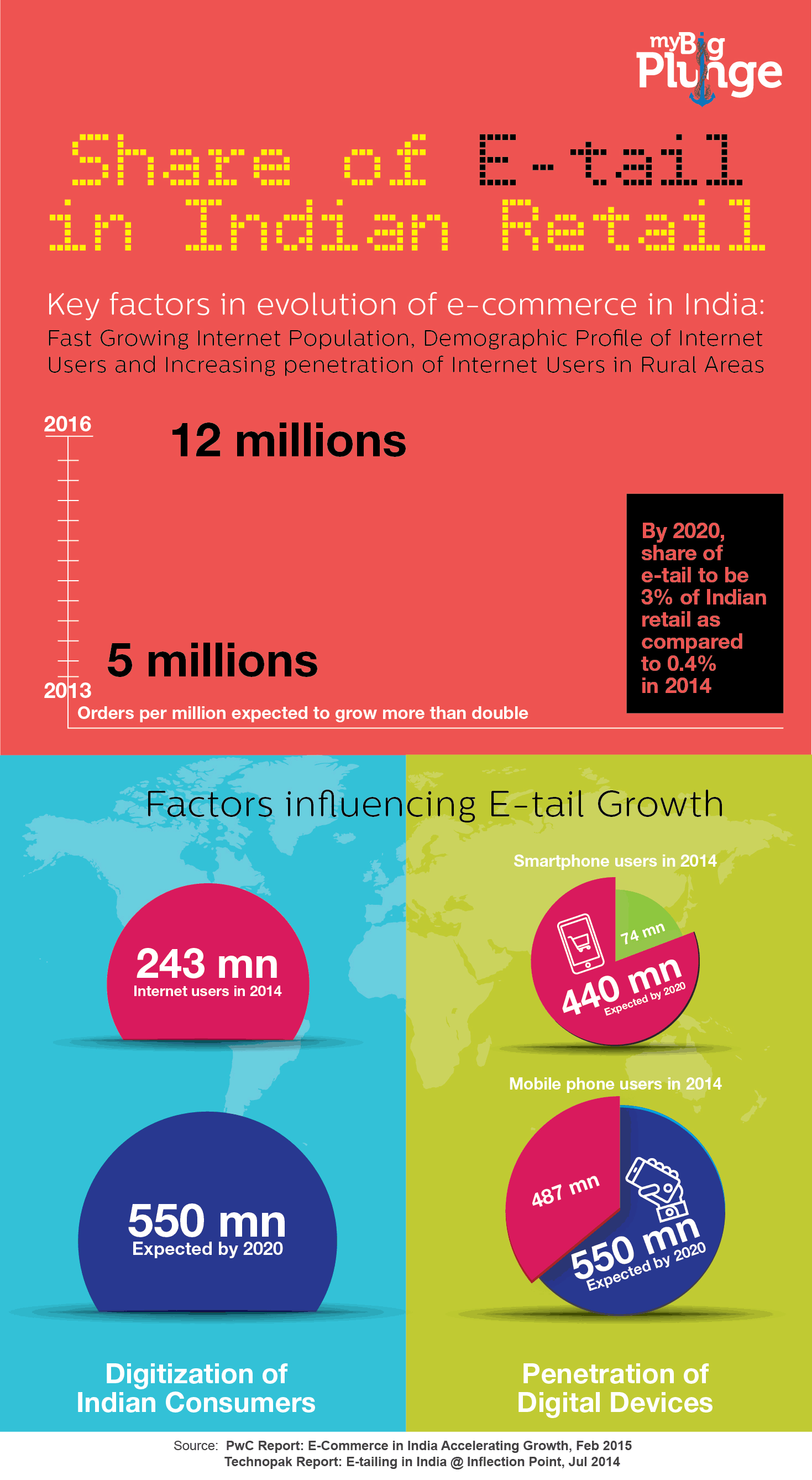 A large chunk of the above population comes from rural areas of tier 2 and tier 3 cities, which points out the depth of internet penetration in the country. Mobile phones in India account for 65 percent of the online traffic.
An analysis of the demographic profile of internet users shows why the e-commerce graph is not declining anytime soon. Around 75% of Indian internet users are in the age group of 15 to 34 years. This category shops more than the remaining population.
The e-tail is observed to be slowly but steadily engulfing a large share of the Indian retail market. By 2020, e-tail in India is expected to account for 3% of total retail. The orders per million are also expected to shoot up doubling from five million in 2013 to 12 million by 2016.
Apart from the traditional online products of retail and lifestyle, newer online business segments such as classifieds, real estate, grocery and healthcare were also tapped.


There are many two main factors that influence the e-tail growth- the digitization of Indian consumers and the penetration of digital devices. One of the major factors that have led e-tailing to be such viable in the Indian market this fast is the growing internet population in the country.
India is currently home to 350 million internet users. The number is furthermore predicted to reach 500 million by 2017 and 700 million by 2020. By 2020, 40% of India would have been born after the launch of the Internet and mobile phones in the country.
As per Technopak's estimates, 66% of the urban Indian's time is taken up by sleep, time spent at work, and commuting to work, resulting in just a third of their time for other activities like socializing, household chores, spending time with children, health, leisure and entertainment, and shopping. To accommodate this, the Indian population is expected to resort to the internet and mobile banking, online travel bookings, etc.
The number of smartphone users in India is estimated to reach 74 million in 2014, which was 40 million in 2012. By 2020, it is further expected to reach 440 million. In 2012, India had over 900 million mobile subscriptions across 380 million mobile phone users. In 2014, there were 487 mobile phone users, which are predicted to increase up to 550 million in 2020.
The usage of laptops and PCs is growing steadily, driven by increasing affordability and need. By 2020, it is projected that 150 million users will have either a laptop or a PC. If the trend continues, there will be 36 million tablet users by 2020. However, if tablet makers break the price barrier and make a functional tablet available at under USD 100, then the number of tablet users in India will increase manifold by 2020.