Opinion
Moving to a new work culture – exploring Work Cafes
In an attempt to give its employees a professional working setup, sometimes as beginners one ends up setting up an office in the wrong marketplace or far from both existing and potential clients and regular commuting becomes difficult.
Greatness is in exploring the unexplored. Sometimes following the trend gives you experiences that change your perspective of looking at things differently and for better – just like working from work cafes as an alternative to your regular workspace. There's a new trend of work cafes emerging in the urban city to foster the growing desire of convenience and community in the workaholics.
With the millenials feeling an urge to reach for something beyond the routine, work cafes are making their place sweetly in the modern work culture.
According to a study by Geoffrey James, it's found that it's easier to work in a coffee shop than in an open plan office. He suggests that a person has more control in a coffee house or work café. They are less likely to be questioned on their ways of working and nobody around them feels entitled to boss around. He explains how this one small habit, in fact, increases productivity exponentially.
With growing mindsets and flexibility of choosing one's work space, there are both social and scientific reasons why workers are willing to trade their cubicles with a coffee table.





Failing Monotony For Good
You can have the best work space with the most creative and well-put environment but walking up to the same place, interacting with the same people, following a daily routine eventually brings in dullness. Just to break the uniformity one must experience how it feels to work in a cafe. A change of place for a few days can surely stimulate one's creativity and kindle with one's right brain.
Contrary to the belief of work cafés being more distracted due to a less degree of a professional setup with music playing in the background researches have proved that ambient noise is a therapeutic concept in real time. In fact many studies have suggested that a moderate level of ambient noise actually does boost creativity for most people.
Spreading Their Wings
This world is a vast community to explore possibilities and opportunities. While coworking spaces and office can boast of a wide network, the divide is too strong to take advantage of any of that. On the other hand, work cafes attract a lot of entrepreneurs, creative writers, thinkers, and artists to buzz around in freedom.
Imagine yourself sitting in a room full of innovative thinkers and having the opportunity of interacting with them instead of just observing. Who knows if one interesting conversation gives you a striking idea that you have been trying to crack since forever. Understanding different perspectives only deepen the way you think and that's always good news – so why miss that chance?
Making their pockets happy
It's no surprise that an early stage startup or entrepreneur is on a tight budget. As opposed to coworking offices, work cafes don't demand security deposits, monthly commitments, maintenance charges or any kind of prepayments. If you are an entrepreneur with a limited amount of funds you may as well start from a work cafe rather than renting an entire office space. myHQ, which is a chain of work cafes allows you to simply pay for the days you and your team actually work and abandon all those extra unnecessary costs while successfully giving your team a chilled out, easy going, fun ambiance to work from.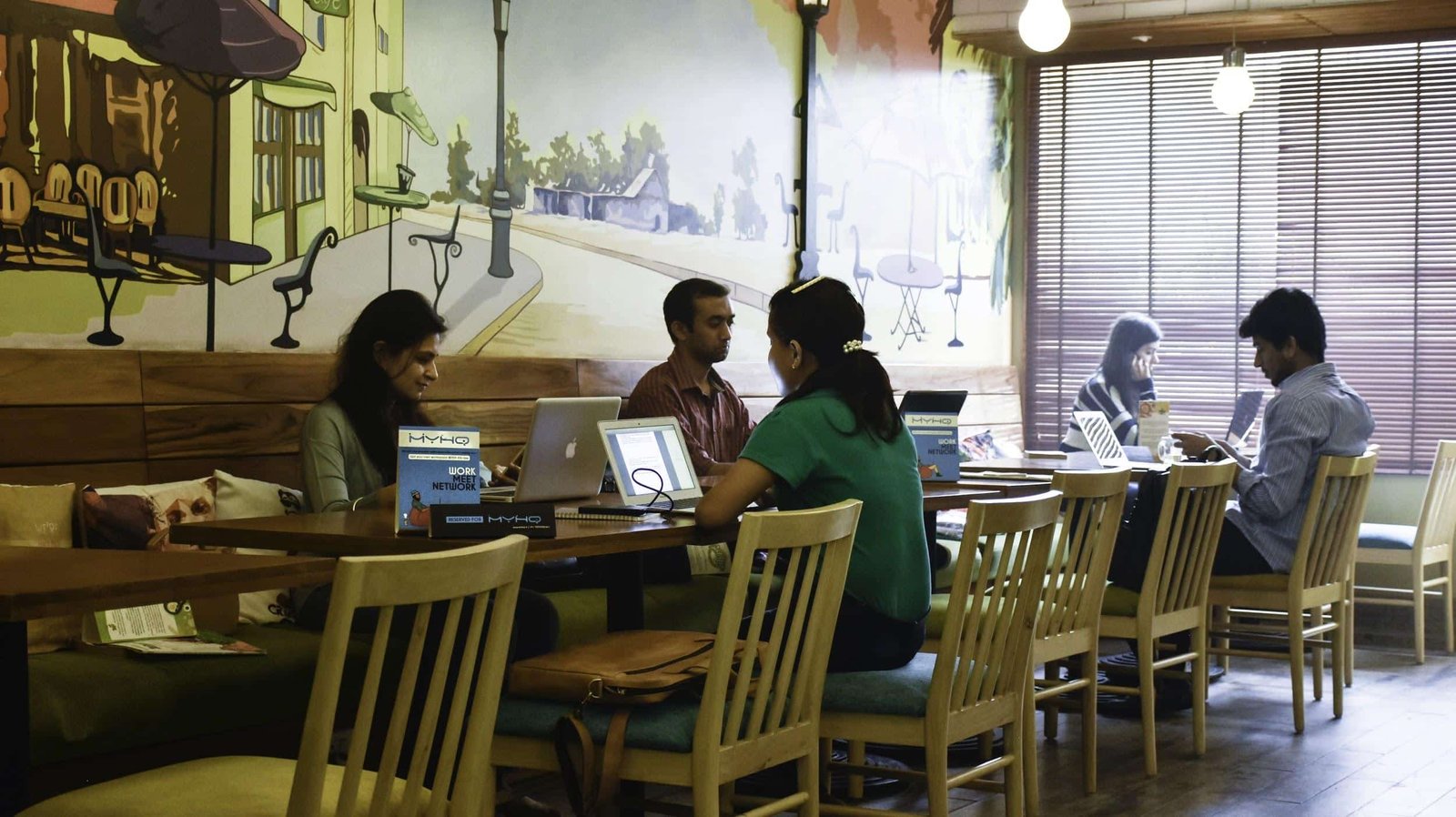 Giving employees a productive lifestyle
In an attempt to give its employees a professional working setup, sometimes as beginners one ends up setting up an office in the wrong marketplace or far from both existing and potential clients and regular commuting becomes difficult. In work cafes, one is not location bound. This gives you and your team immense freedom and accessibility to be on the move or work from the closest workspace. For Sales or Business Development folks, holding meetings and moving around becomes extremely convenient in an arrangement like this. Henderson in his 2015 LinkedIn articles asks an important question "If you can't trust your employees to work flexibly, why hire them in the first place?"  If you're still doubtful, you ought to know that when you let people work their way, you allow workers to experience this trust, they more likely to reciprocate and feel like the business will treat them fairly.
What's more, working in a work cafe gives you the option to try the all new exotic dishes from your favorite cafe's menu. This further fuels a team's comfort level with a chilled out atmosphere and perks which go beyond the norm. While working in coworking traditional offices may sound all professional and significant to some, trying out modern work culture is no harm. A free spirited explorer must always be ready to give in to new experiences.
Disclaimer: The views and opinions expressed in this article are those of the authors and do not necessarily reflect the official policy or position of the publication