News Flash
Here's how the Uber Cleartrip India partnership works – no need to switch apps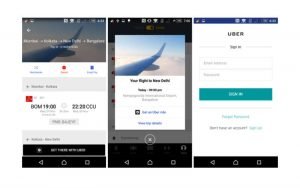 Uber and Cleartrip in India have entered a partnership and both will platforms will feature each other's services. The Uber Cleartrip tie-up comes in the quick follow-up to Google Maps' announcing that users can now book rides directly from the map. There will be no need to download the Uber app, all one would need is an Uber account.
Uber could now receive recommendations from Cleartrip including events, experiences, etc in the city that the user is present. Additionally, users booking travel tickets or for those to local activities on Cleartrip could also book a ride in the app – without having to switch apps or leave the website.



Uber had also announced the launch of UberEATS in India, a food delivery service that was rolled out as a delivery pilot in Los Angeles in 2014. UberEATS will be competing with the likes of Zomato and Swiggy and is a standalone app that is now available in 58 cities across the globe.
The company has said that it would be adding more features to its India app in the coming months, including integrations with one's calendar apps – keeping track of meetings and appointments. Once integrated, users will receive reminders and will be able to book rides directly via a user's phonebook.