Culture
Santa Claus of the real world
[dropcap]W[/dropcap]hile most children have the good fortune to experience their simple wishes come true, the reality becomes entirely different for those diagnosed with life- threatening diseases. Their health condition and their parents' psychological condition make the journey difficult all the more difficult. They get deprived of any hope that might have otherwise helped in such situations.
Thanks to Make a Wish (MAW) Foundation, those children get a glimmer of happiness at such times, which might as well be their last. The Kolkata chapter of MAW celebrated World Wish Day on April 29th by fulfilling the wishes of seven children under 3-10 years old suffering from life endangering medical conditions at Rabindranath Tagore International Institute of Cardiac Sciences, under the supervision of their doctors.
Sahana Sen, program-coordinator, MAW, Kolkata, said, "With the children each deserving to have a wish, Make A Wish believes in the healing power of a wish come true and thus striving to be a turning point in the lives of the children, giving them some strength to battle their life threatening medical conditions."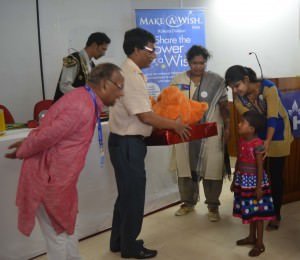 The gifts given to the children ranged from cycles, Doraemon merchandise, and clicker cars to teddy bears, doll house and drawing sets. Their parents were also present, and gifts were also given to their siblings. They also got a wish enhancement gift on behalf of MAW. MAW, Kolkata has been fulfilling wishes since 1999.
In MAW Mumbai, Sachin Tendulkar, who turned 43 this month, celebrated the day by playing cricket with children from the 'Make-A-Wish India' Foundation. He was in the middle with 21 young children who had been diagnosed with a life-threatening medical condition. He even cut a cake with the young ones.
The first ever wish was granted way back in 1980 to a 7-year- old Phoenix, Arizona boy with leukemia. Officers from the Arizona Department of Public Safety granted his wish to be a police officer with a custom made uniform, helmet badge, and even a helicopter ride.
The majority of wish requests fulfilled by MAW fall into four broad categories- to go somewhere, to be someone, to meet someone or to have something.
Make-A-Wish Foundation of America was founded in 1983, to charter local chapters throughout the United States and its territories. Today, there are over 100 chapters and several international affiliates.
MAW works by allotting volunteers from local chapters and form wish teams, who coordinate the wish of children. After determining the child's medical eligibility, a wish team is assigned to the child. The team visits the child and family to determine the child's wish.