Artist in Focus
In conversation with Pragnya Wakhlu who returns to her roots with her latest album Kahwa Speaks
Kahwa Speaks – The title track of the album speaks about how we can view a cup of tea (kahwa) as a metaphor for life.
While there is much to talk about in Kashmir with regard to its culture, tradition and music, the media attention is focused mostly on the violence in the state. Kashmir is often misunderstood and its better half is often hidden from the public eye. Even those who may have been born in Kashmir and later migrated elsewhere only know of the place basis the stories they hear and the way media depicts it.
Pragnya Wakhlu, who was born in Srinagar and raised in Pune is looking to introduce the world to the nuances of Kashmir's culture and history. Her album, Kahwa Speaks, has evolved from her strong connections to roots and her attempt at preserving the Kashmiri language and getting others – including non-Kashmiris – interested in it too. She hopes to do this using the arts of live music, visuals and storytelling.
The six songs on the Kahwa Speaks album are in Kashmiri and have English translations. They are a mix of contemporary takes on the poems of Lal ded and Habakhatoon, the traditional wanwun and original compositions. 'Burning Fire', one of the six songs on Kahwa Speaks, is in Tibetan and English. With Burning Fire, the artist is looking to bring about awareness on the critical and often ignored issue of 'self immolation' in the Tibetan community.




Pragnya has launched a music video for Burning Fire and we caught up with her to talk about it:
Give us a gist of your album, the stories you capture and what your objective of it is.
Kashmir has often been a misunderstood state as there is a lot of media attention on the violence there. There is so much about Kashmiri culture, traditions and music that remain concealed from the public eye. A lot of people that moved out of Kashmir and the generations after them have never been there and never visited. What these generations know about Kashmir is what they have heard from their parents or what they read in the media.
I have always wanted to do something with my music with a dualfold approach of understanding more about where I come from and also to introduce the world to the postive side of Kashmir. That's when the idea of "Kahwa Speaks " evolved and I spent a lot of time doing research over the past few years.
My endeavour with this album is to help audiences (both Kashmiri and non-Kashmiri) across the world to experience Kashmir for what it inherently is – a rich cultural state. To be introduced to the finer nuances of a forgotten culture and history through an experiential show involving live music , visuals and  story telling .It is an honest attempt  at preserving the Kashmiri language ,by creating memorable songs that pique people's interest in learning the language.
The music aims at spreading the message of peace and unity, strictly keeping away from any political agendas. The album has six songs –
Henzay – Return to peace – This is a form of Kashmiri singing called Wanwun which is traditionally sung at weddings as blessings for the family and bride. The kashmiripandit style is more like a vedic chant and the Kashmiri muslim style is slightly different. This song brings both styles together in the same track.I've also added a lot of vocal harmony layers to make it sound bigger and fuller.The lyrics are blessings for Kashmir.
HukusBukus – The Riddle HukusBukus is a childhood poem that has it's roots in Kashmiri shaivism. It talks about self identity and how we are all made by the same creator.
Katyuchuk – My love- Based on a poem written by Habakhatoon it is the love story between the erstwhile poetess Habakhatoon and the 16th century king of Kashmir Yusuf Shah Chak
Lalla's Lore – Lalla's Lore features two vaakhs (verses) by the poetess Lalleshwari (fondly known as Lalded) and their translations in English. I spent an afternoon with Mr. Jawaharlal Bhat(author of Lalded Revisited)who helped me select and understand the meaning of the Vaakh's and then I re-wrote the essence of the vaakh in English.This is also the first time in India that this has been attempted.
Burning Fire – Burning Fire is written about a cause I feel really strongly about – the injustice that is happening to the Tibetan community . The song aims to bring awareness to the oft ignored and very critical issue of self immolations .I felt the relevance of including it in this album for several reasons. J&K consists of Jammu, Kashmir and Ladakh..Ladakh has a huge community of Tibetans and I feel their forced exile is very similar to what Kashmiri pandits went through earlier on.
We've also released a music video for Burning Fire which has been shot in Dharamshala with real refugees and real stories.
Kahwa Speaks – The title track of the album speaks about how we can view a cup of tea(kahwa) as a metaphor for life. Can we be sweet with our words, fragrant with our actions and live together in harmony just as the different elements of tea come together to create a beautiful brew?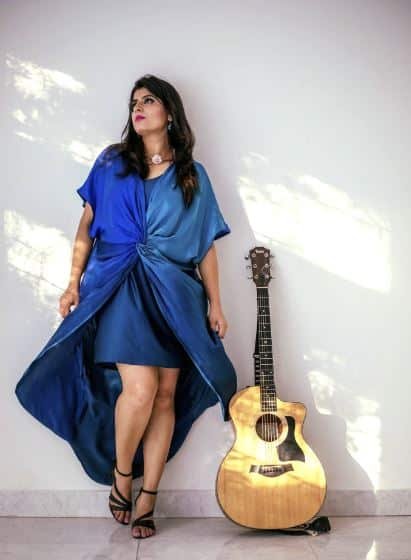 You have roots in Kashmir, other than sonically, how does the place influence your music?
Kashmir is a place that has inspiration written all over it. No-one is a stranger to its beauty. Just the grandiose of the mountains and the rivers itself is enough to make you awestruck by God's miracles. Beyond the beauty though, there are stories of courage, resilience, angst and longing for home that the valley speaks of that has influenced my music. It is the stories of the people and the history that make Kashmir what it is.
And what hopes do you have for how your music will influence the place?
I am hoping that the music will help both Kashmiri's that have moved out of the state and non-Kashmiri's see a different and good side of Kashmir…see it in a  more positive light than what is being portrayed in the media. A lot of the songs in the album talk about unity and coming together. I am hoping that the music will maybe create seeds of changing thought that will then translate into changing perceptions and behaviours in society.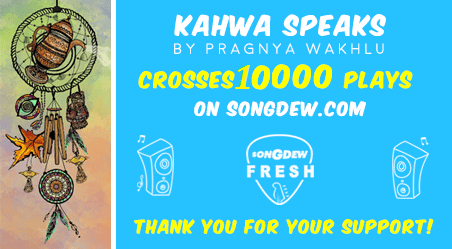 We understand that it may be difficult to choose, but which track on your album do you feel most connected to and why?
I think it would be  Burning Fire and KatyuchukNundbaane. As mentioned earlier Burning Fire is written about a cause I feel really strongly about. Also the whole process of making the song and shooting the music video was transformational.
When and how did you get into music?
I started off at a young age learning Hindustani classical music from my neighbor who was a music teacher in Pune. My grandma would also play the sitar and would teach my sister and myself raaga's on the sitar. I learnt how to play the guitar when I was 16 and we formed a college band participating in several competitions on the local circuit. Later on I joined Infosys and we made a band called Zephyr playing the Bangalore circuit. I started writing my own songs when I moved to Seattle, USA for work. My first public performance of my own songs was in Seattle back in 2008 and the encouraging audience response is what gave me the motivation to quit my I.T. job. After quitting my job I took lessons in music under various western vocal coaches including Joanna Mary Skillet, Sarah Jerrom and Lucia and attended music programs at SAM(Chennai ) and the Caux Artists program in Switzerland. I also completed in the Berklee songwriting course. I have been continuing my Indian classical lessons under Ustad Aftab Ahmad Khan for about 2 years now. It's important to keep learning and growing.
Who was your inspiration, musically and personally?
Musically one of my teachers Joanna Marie Skillet who is an opera singer is a big inspiration. She has a voice that moves me and she is a shining example of someone that works hard and has made it in the industry on her own merit. She's technically very good but more than that what I really respect and admire about her how she gives back to community through community singing programs and other social work. I also admire and am inspired by KT Tunstall and Tracy Chapman. They are both gifted songwriters and musicians that convey powerful things with their music. Personally, I am inspired by individuals that have overcome all odds to live their dream…people that have a positive outlook towards life and one's that are trying to make a difference with their work.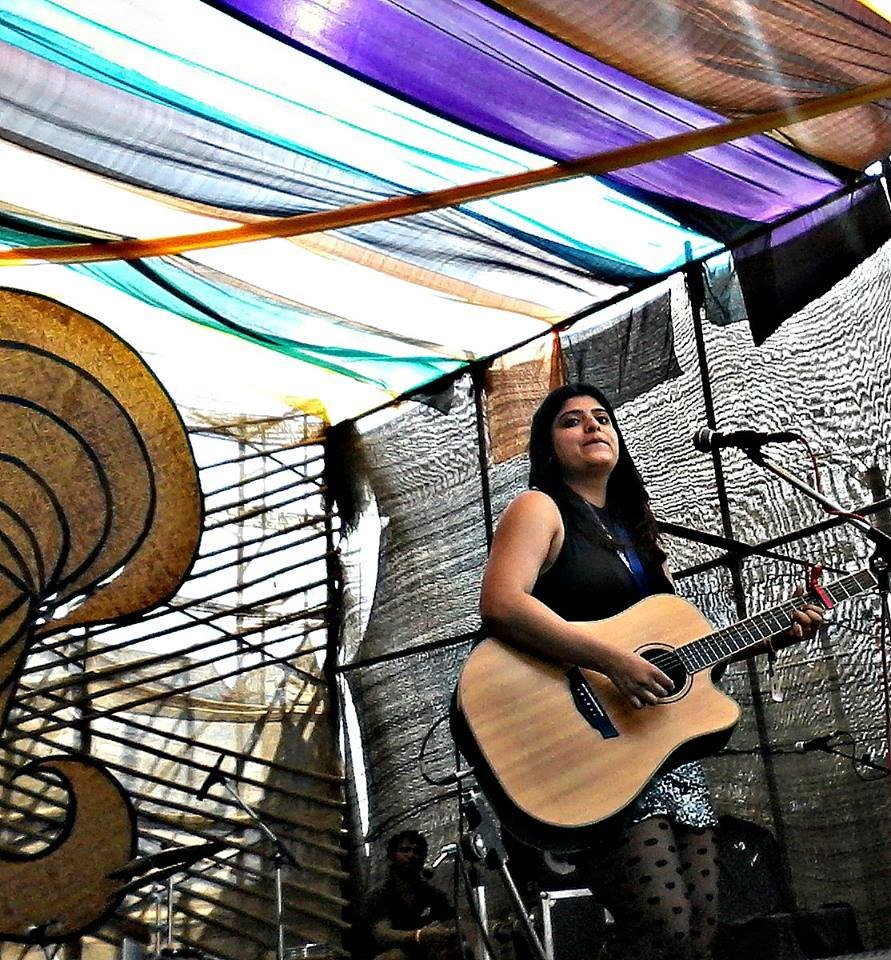 Several of India's cultures and corresponding arts – including music – is still largely undiscovered by Indians themselves. How do you think this can be changed?
I think a lot of efforts are being made in this area by independent artists and now a few music festivals. Bands like the Barmer Boys are taking the music of Rajasthan across festivals in Europe and USA. Abiogenesis a band from Nagaland was nominated for the Grammies for introducing the world to the Howey music of Nagaland. Parvaaz and Alif are writing songs in Kashmiri. We are just scratching the surface though. India has such a culturally rich landscape when it comes to art and music with so much to be discovered. I think once radios and mass media starts giving more airplay to the cultural arts, there will be a shift. Also I think India is hugely influenced by Bollywood and cricket. What might actually be a game changer would be if a few famous personalities (movie stars/famous personalties) championed music festivals that are meant to promote culture rich art.
One person to collaborate with, Indian or international, dead or alive and could even be of another art – to bring about a positive change – who would it be and why?
Musically I think it would be Bob Dylan because he is able to talk about relevant issues and put them across in songs that have really moved people over the generations. He is someone I aspire to be like.
I think Justin Trudeau would be the other because he is wise, just, inclusive and has the power of influence, being the prime minister of Canada.
You next endeavour will be…
My immediate plan is to take Kahwa Speaks across the world on a world tour with the band and play in different countries spreading the message. We have launched a crowd funding campaign on Ketto for the same. After that I plan to record a few songs with a Hong Kong based spiritual free jazz band called One Love that I met earlier this year when I had gone to facilitate some workshops. Amit Kilam (Indian Ocean) and me also plan to record and release a single together.
Post that I plan to record a new EP and work on taking my sound healing work (I also do sound healing workshops) to South East Asia.
Kahwa Speaks is… one sentence to sum it up
Paradise in a teacup..your life in a brew.
To listen to more of Pragnya Wakhlu's music you could check out her work on Songdew. Songdew Fresh is a project under Songdew that is looking to promote Indian artists and has collaborated to release the video for 'Burning Fire'. Check out the music video: