Trending
Grofers revokes job offers without notice, to lay off 10% of its workforce
Grofers India Pvt. Ltd has revoked the appointment of new employees days before their joining date even as the company prepares to lay off 10% of its workforce. In an email to employees Rishi Arora, the company's human resource head, informed that the lay offs will be primarily targeted at customer support, delivery and content management teams. Several employees have already been given the options of submitting their resignations or accepting a lay off following which their company email ids were disabled. The company has around 2000 employees working under them.
The grocery delivery startup also revoked job offers it handed out to college graduates and new employees. According to a report by Mint, "Grofers revoked 67 job offers to students who were scheduled to join the start-up in July, citing market conditions. The firm emailed its decision to the National Institute of Technologies (NITs) at Allahabad and Surathkal; Birla Institute of Technology and Science (BITS) Pilani and its Goa campus; and the Indian School of Mines in Dhanbad."
Social media has been abuzz with various allegations leveled at the company, principal among which is the company's handling of the delicate issue of withdrawing appointments merely days prior to the joining.
My Big Plunge spoke to Rohan Coelho, a BITS Pilani (Goa) graduate whose standing job offer at Grofers was cancelled at short notice and he has this to say, "We received multiple mails in the previous months regarding formalities of joining and accommodation. I was informed about the cancellation at 5:36 pm after they called us to Gurgaon and sent me a mail regarding my accommodation at 7 the previous evening. In fact, my friend was welcomed in the morning, he checked into the company provided hotel and by evening, bam!"
The mail that was forwarded to prospective employees has also come under fire.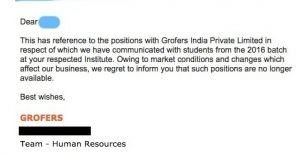 The company's irresponsible handling of the cancellations has led to social media outrage with disgruntled former and prospective employees (whose offers were revoked) hitting out on Grofer's social media page with several complaining that comments and accusations were being promptly deleted.
This shocking development at Grofers comes five months after the company shut down operations in 9 cities-Bhopal, Bhubaneswar, Coimbatore, Kochi, Ludhiana, Mysuru, Nashik, Rajkot and Visakhapatnam. Back then, however, displaced employees were relocated and resettled within the company in branches across other operational cities.
The past few years have seen massive downsizing in several startups such as Zomato, TinyOwl, Common Floor and others. While most of these startup companies are backed by good funding recent market shifts, funding problems and erratic growth have posed operational problems that have left these companies struggling to cope up.
While Grofers' case has garnered traction in social media several startup companies have revoked or deferred placement offers in various institute in the recent months. According to Mint, Flipkart Ltd delayed joining dates for 17 graduates from IIM Ahmedabad, by six months while Hopscotch and CarDekho have deferred joining dates of graduates at IIM Bangalore and Roadrunnr and Click Labs have delayed the joining dates at IIT Guwahati. The delays and deferrals at the hiring process has been the key reason behind IITs blacklisting six startups from their recruitment process.
It must be noted that Grofers has raised about $165 million from Softbank, Tiger Global and Sequoia Capital. However, even well backed startups are now struggling with operational challenges and expenses as funding problems continue to haunt them in the current market environment. While employee salaries form one of the principal expenses of startup e-commerce companies, not much profit is made between the buying of goods and delivering them, often at severely discounted prices.
While the funding crunch and operational challenges remain a fact, what has angered many is the insensitive handling of cancellations by Grofers. One prospective employee who wishes to remain anonymous expressed outrage at the HR management's denial of apology at the abrupt cancellation of his appointment that was dragged through several months leading to a genuine professional setback.
As the facts of the dismissals began to get media attention Grofers has issued an official statement and apology in a blog post wherein it has stated
"We had to take some difficult decisions over the past few days. We realize the impact this has on our campus hires and we do not view it lightly. But even before that, we want to apologize for the way we handled the situation."
Citing strategic changes for the long term benefit of customers Grofers has also assured "severance benefits and outplacement services" for its affected employees.
While this comes as a relief to displaced employees, those whose placement offers have been cancelled continue to feel disgruntled as the statement was issued a day after their appointment cancellations. Since most of these prospective employees had spent months anticipating their employment, the abrupt cancellation and on-the-spot dismissal have left a bad taste in the mouth and certainly shaken their trust on startup platforms that increasingly seem on jittery grounds.
Related Topics:
Allahabad, Bhopal, bhopal bhubaneshwar coimbatore cochi ludhiana mysuru nashik rajkot visakhapatnam human resource goa placements iim iit social media e commerce grofers zomato tinyowl flipkart, bhubaneshwar, Bhubaneswar, Birla Institute of Technology and Science, BITS Pilani, car Dekho, Click Labs, Coimbatore, Common Floor, Dhanbad, flipkart, Flipkart Ltd, Goa, Grofers India Pvt. Ltd, IIM Ahmedabad, IIM Bangalore, IIT, IIT Guwahati, IIT IIM Placements, Indian Institute of Managemnt, Indian Institute of Technology, Kochi, Ludhiana, Mysuru, Nashik, National Institute of Technology, NIT, Rajkot, Roadrunnr, Sequoia Capital, Softbank, Surathkal, The Indian School of Mines, Tiger Global, Tiny owl, tinyowl, Visakhapatnam., Zomato