News
Wittyfeed becomes 20th most visited website in India surpassing Twitter and Instagram
India's largest viral content company, Wittyfeed became the fastest and youngest company to attain the ranking of being the 20th most visited website in India – surpassing major social networking sites Twitter & Instagram.
Vinay Singhal, Co-Founder & CEO, WittyFeed said, "I am very glad that WittyFeed had reached to this position. It is a great achievement for our entire team to transcend some leading social networking sites just in two years."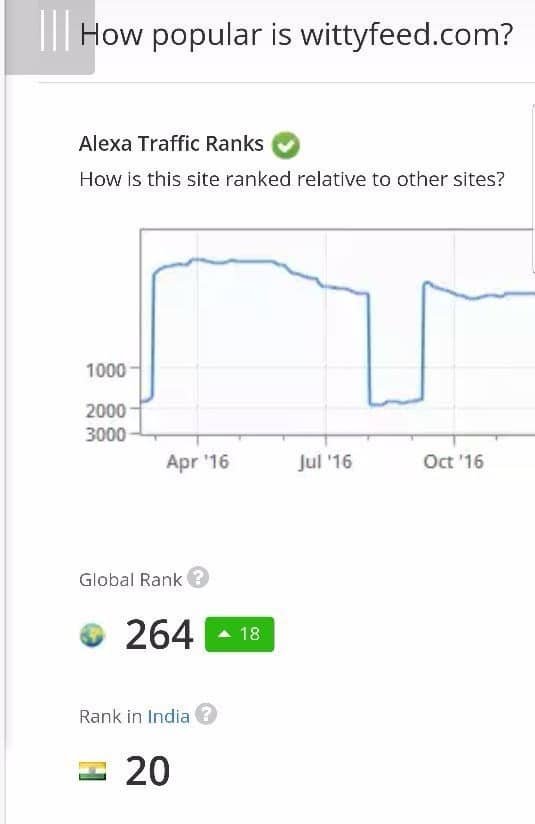 As per the latest Alexa ranking, Wittyfeed was the 20th most visited website in India and is considered an enormous achievement with humble beginnings. It started from a hostel room in Indore with a few hundred thousand users and managed to build its userbase rapidly. It initially ran only Facebook content but now has diversified into 18 categories like travel, health & fitness, relationships, inspiration, celebrities and more.
Wittyfeed is indigenous and 100% bootstrapped which is now valued at $30 million. In the last FY, the company registered revenue of Rs. 26 crores and is expected to cross the 35 crore-mark this year. Being that 30% of the company's market comes from the US, they are looking at expanding further into the market.

Mr. Singhal further added, "This feat motivates us to believe in ourselves and work hard to accomplish new milestones in coming years. I wish that the future holds more heights of success for WittyFeed."
Along with launching Web Series for audience engagements, the company plans to roll out portals in regional languages including Tamil, Bengali, Marathi, Punjabi, and more, in addition to its existing English and Hindi platforms. They aim to be the single largest point of Content Exchange where a brands can share their messages.